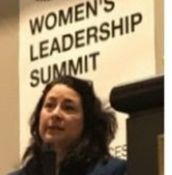 A. ANNUAL IN-PERSON SUMMIT AND CELEBRATION.
Date:
Sep 21, 2022 from 9 am - 2:30 pm (Also Recorded).
Location:
Westin River North, 320 N Dearborn St, Chicago, IL 60654 (Also Recorded)
Past Agenda Example
Keynote: Leading With Compassion and Authenticity.
by Sarah Farrell, Director at Expedia Grp.
Keynote: The High-Achieving Woman: 5 Key Themes to Incorporate Into Your Leadership.
by Tracy O'Flaherty, Vice President at Groupon.
Panel: Transitioning into the New Normal: Your Team After COVID.
by Swati Shah, Sr. Vice President at TransUnion; Tricia Thomsen, Director at Grubhub; Veronica Romano, Vice President at Zurich North America; Sarah McCarron, Vice President at JP Morgan.
Keynote: Work/Life Balance.
by Sabina Gasper, Vice President at Abbvie.
Keynote: How to Reach Your Leadership Potential.
by Vanessa Ground, Director at GATX.
B. GREAT SPEAKERS EVERY MONTH. (Included In Membership)
Mark these future dates for an hour each (also recorded, watch Live or Anytime):
2022:
Jan.10, Feb.14, Mar.14, Apr.11, May.9, Jun.13, Jul.11, Aug.8, Sep.12, Oct.10, Nov.14, Dec.12.
2023:
Jan 9, Feb 13, Mar 13, Apr 10, May 8, June 12, July 10, Aug 7, Sep 11, Oct 9, Nov 13, Dec 11.